St. Therese of the Child Jesus and the Holy Face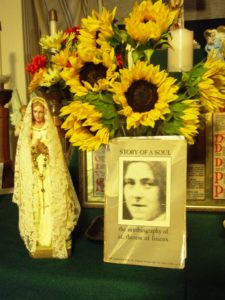 OUR Patroness is St. Therese of the Child Jesus and the Holy Face, a 19th-century young woman who entered the Carmelite Convent of Lisieux, France at the tender age of 15 years old. She had a gift for teaching others to love God.
St. Therese died at the age of 24 in 1897 after a long struggle with tuberculosis. She wrote a book at the direction of her Superiors called THE STORY OF A SOUL. Upon her death, the book became an overnight sensation. She had said on her deathbed that her mission was just beginning and that she would spend her heaven doing good on earth, that she would send down a shower of roses. So many miracles were attributed to her intercession that within 28 years, she was canonized a saint in 1925 by Pope Pius XI. In her book she explained her "doctrine" of the Little Way, offering up every day's trials and achievements to God's Merciful Love.
 She had a passion for mission work and wrote to many missionary priests encouraging them. After her canonization, she was given the titles of Patroness of Missions and Patroness of France, along with St. Joan of Arc. Her way of "spiritual childhood" leads others to full confidence and trust in God as Our Heavenly Father and in loving community with the Holy Family Jesus, Mary, and Joseph. In 1997, on the 100th anniversary of her death, Pope John Paul II declared St. Therese a Doctor of the Church, one of only 3 women in church history to receive this honor.
With prayerful reverence and thanksgiving for her life and message, St. Therese Missionary Society faces the 21st century with enthusiasm and joy.
 ST. THERESE MISSIONARY SOCIETY
HOME OFFICE: P.O. Box 1155
Marshall, Arkansas 72650
DAILY SCHEDULE (may vary due to work or travel)
HORARIUM:
THE SCHEDULE IS MADE FOR US; WE ARE NOT MADE FOR THE SCHEDULE.
9 AM  MORNING OFFERING & MEDITATION

9:30 AM   WALK, EXERCISE & PREPARATION FOR THE WORK DAY
11 AM   BREAKFAST
12:15   PRAYERS, MEDITATION

3 PM- DIVINE MERCY CHAPLET (Prayer List)
3:15-3:45  PM- LUNCH
3:45 PM-6:30    REST & WORK
7 PM   WALK
7:30-  ROSARY
8:00-10:30 PM- DINNER & RECREATION
11:00 NIGHT PRAYERS, MEDITATION/ GRAND SILENCE
11:30 PM  LIGHTS OUT